Princess Zoey Cameroon (married name: Zoey Bloom) is a female cat and is one of the secondary heroes in Lingers. She is Princess Ponyland and is Tyrone's wife.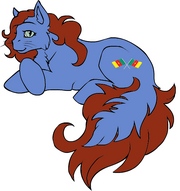 Personality:
Zoey is initially portrayed as the archetypal princess of fairy tales, speaking formally on dating, with high expectations of how it is to be redeemed, that is to save her, and so on. It seems to take a prisoner air and even snobbery to a degree. Later, I true Princess Zoey Cameroon arises, as it is actually a very down-to-earth and independent woman who is a game or even better than Tyrone when it comes to farting, burping and other bad habits. She is a loyal friend, and unlike fairytale princesses, an expert in combat hand-to-hand with knowledge of Japanese martial arts. It has also very bad manners (as Tyrone), since it is a cat. However, it is much more polite when in front of their parents.
Family:
MacKenzie Rainbow (father)
Jody Cameroon (mother)
Tyrone Bloom (husband)
Graham Bloom (son)
Kate Cameroon (daughter)
Grahame Cameroon (son)
Community content is available under
CC-BY-SA
unless otherwise noted.